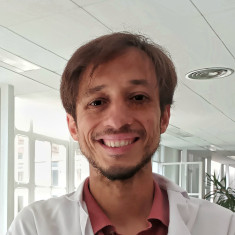 biography
Dr. Radua, principal investigator of the translational research group at FIDMAG Research Foundation (Barcelona) and awarded with a Miguel Servet contract, is a psychiatrist medical doctor and statistician who earned his doctorate in biostatistics of brain imaging at the Institute of Psychiatry, Psychology & Neuroscience (IoPPN), King's College London

.
He has led many multidisciplinary studies about psychiatric disorders and has analyzed a large number of clinical and neuroimaging datasets; these usually worldwide collaborations have lead to >100 publications in Pubmed-indexed journals (80% at the first quartile).
He has also developed several new meta-analytic and neuroimaging methods, among which MetaNSUE

and SDM

software must be highlighted for their applicability and becoming methods most used by the scientific community at the present time. His research is currently also focused on the clinical prediction (e.g. individual treatment response or recurrence risk) based on available clinical and biological data to pave the way for evidence-based personalized medicine.
At the academic level he teaches and coordinates several postgraduate courses in statistics and neuroimaging, is an associate editor of Frontiers in Psychiatry

and BioMed Research International

, and holds the presidency of the Spanish Neuroimaging Society.
He has mainly developed his work at the IoPPN, King's College London

(London, where he keeps continued collaborations with Dr. Paolo Fusar-Poli and Katya Rubia), the University of Yale

(New Haven, Connecticut, USA), the Karolinska Institutet

(Stockholm, Sweeden, where he keeps continued collaborations with Prof. David Mataix-Cols) and FIDMAG Research Foundation

(Barcelona, where he works nowadays).
contact
Contact Dr Radua at jradua at fidmag dot com.
statistical and neuroimaging software
Please feel free to download and use the following software. References can be found below in "Publications".
MetaNSUE package for R : new meta-analytic method that allows an unbiased inclusion of studies with Non Statistically-significant Unreported Effects (NSUEs). Note that a number of published studies may not report any statistics (e.g. t- or p-values) from those findings that did not reach statistical significance, and it can be shown that exclusion of these studies leads to strong positive biases, whereas considering these effects as null leads to negative biases. MetaNSUE uses maximum likelihood estimation and multiple imputation techniques to unbiasedly include these studies.
Seed-based d Mapping (SDM) library and GUI :

new meta-analytic method for voxel-based neuroimaging modalities such as functional magnetic resonance imaging (fMRI), positron emission tomography (PET), voxel-based morphometry (VBM) or diffusion tensor imaging (DTI), as well as its application for investigating a range of neuropsychiatric disorders. It also includes some utilities to perform simple standard meta-analyses (e.g. for global grey matter volume) as well as to conduct simple arithmetic or statistical operations with 3D images

.
Occ package for R (and Matlab script) :

function to estimate positron emission tomography (PET) neuroreceptor occupancies with different fitting methods

.
publications in pubmed
In Press:
[TBA]
Frontiers in Psychology; in Press.
[TBA]
World Psychiatry; in Press.
[TBA]
International Journal of COPD; in Press.
Association between environmental factors and hospitalisations for bronchiectasis in Badalona, Barcelona, Spain (2007-2015) .
Garcia-Olivé I, Radua J, Sánchez-Berenguer D, Hernández-Biette A, Raya-Márquez P, Stojanovic Z, Martínez-Rivera C, Fernandez Serrano S, Ruiz Manzano J.
Medicina Clínica; in Press.
Meta-analysis of functional magnetic resonance imaging studies of timing and cognitive control in schizophrenia and bipolar disorder: evidence of a primary time deficit .
Alústiza I, Radua J, Pla M, Martin R, Ortuño F.
Schizophrenia Research; in Press.
Common and distinct patterns of grey matter volume reduction alteration in major depression and bipolar disorder: evidence from voxel-based meta-analysis .
Wise T, Radua J, Via E, Cardoner N, Abe O, Adams TM, Amico F, Cheng Y, Cole JH, de Azevedo Marques Périco C, Dickstein DP, Farrow TF, Frodl T, Wagner G, Gotlib IH, Gruber O, Ham BJ, Job DE, Kempton MJ, Kim MJ, Koolschijn PC, Malhi GS, Mataix-Cols D, McIntosh AM, Nugent AC, O'Brien JT, Pezzoli S, Phillips ML, Sachdev PS, Salvadore G, Selvaraj S, Stanfield AC, Thomas AJ, van Tol MJ, van der Wee NJ, Veltman DJ, Young AH, Fu CH, Cleare AJ, Arnone D.
Molecular Psychiatry; in Press.
Neural correlates of success and failure signals during neurofeedback learning .
Radua J, Stoica T, Scheinost D, Pittenger C, Hampson M.
Neuroscience; in Press.
Functional imaging changes in the medial prefrontal cortex in adult ADHD .
Salavert J, Ramos-Quiroga JA, Moreno-Alcázar A, Caseras X, Palomar G, Radua J, Bosch R, Salvador R, McKenna PJ, Casas M, Pomarol-Clotet E.
Journal of Attention Disorders; in Press.
2017:
2016:
2015:
2014:
2013:
2012:
2010:
2010:
2009:
Voxel-wise meta-analysis of grey matter changes in obsessive-compulsive disorder .
Radua J, Mataix-Cols D.
British Journal of Psychiatry 2009; 195:393-402.